June's patterns from the 2012 Sock Club are now available for purchase. Inspired by my trips to Iceland, these socks feature the glacier blue Vintage Icebox shade of Primo Fingering from The Plucky Knitter.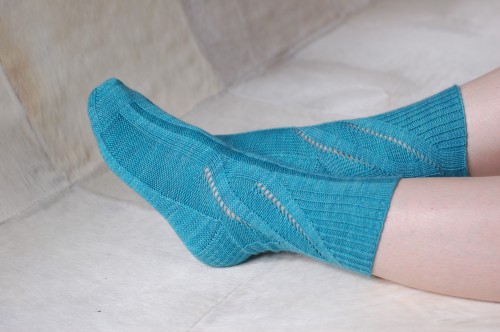 The Reykjavik socks are modeled after an iconic Icelandic landmark, the Hallgrimskirkja cathedral, which is visible from all over Reykjavik and is quite an impressive sight with such elegant lines and simplicity. I designed the socks so that when looking down at your feet, you will catch a glimpse of Icelandic architecture down to your toes. The elegant lines and textures are translated into a twisted rib and wider angled lines.
The pattern contains charted directions.

  $6.50
Sólfar is named after the iconic sculpture on Reykjavik's waterfront designed by Jón Gunnar Árnason. Sólfar translates to "sun voyager" and is a modern sculpture of a "dreamboat", and ode to Iceland's rich history with the sea. The curves and symmetry of the sculpture translated well into the stitches of a sock, taking on an almost floral appearance.
The pattern contains both written and charted directions.

 $6.50