It's mid-August and that means that more patterns from the 2012 Sock Club are now available.
August 2012 was all about green tea and… other things that are green. Like Yoda! The club knit on green-tea themed socks with green-tea themed yarn from Enchanted Knoll Farm, and baked Yoda cookies flavored with matcha. Green is one of my favorite colors, and I am a big tea lover, so this was definitely a fun month.
Gyokuro
Gyokuro is named for a high grade Japanese green tea where the leaves are fully intact and grown in shade to give it a brighter color and smoother flavor.
The Gyokuro socks feature twisted stitches and fully intact leaves.
The pattern contains charted instructions.

  $6.50
Jedi Mind Tricks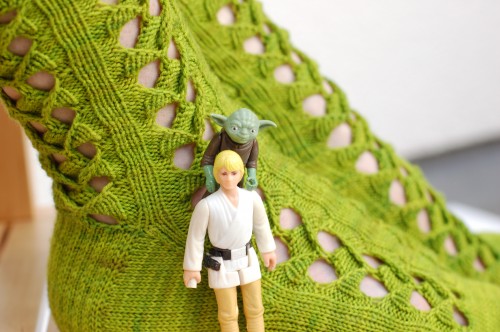 Jedi Mind Tricks features a unique and bold textured stitch pattern, created by binding off, casting on, and manipulating the stitches. "Do or do not. There is no try." – Yoda
The pattern contains written directions and a photo tutorial.

$6.50