Is it hot enough yet? Everyone seems to have been hit with a heat wave this past week. Maybe I can help cool off with socks from last month's sock club shipment inspired by Iceland.
As you know, I headed over to Iceland earlier this year for a trip filled with adventure, lots of sheep and wool, and wonderfully cool winds. If you've never been to Iceland, I can't recommend the Knitting Iceland tours enough!
What I found astounding about Icelandic culture was the emphasis placed on design and art. Everywhere we went we were greeted with visual feasts for the eyes. Not only is the landscape amazing with glaciers, lava rock, black sand beaches, fjords, and snow capped mountains, but homes and towns were also decorated beautifully.
While this month's designs are certainly inspired by the Icelandic ways, they aren't a literal inspiration. I haven't incorporated the traditional Icelandic knitting methods or yarn which would involve stranded colorwork and lopi, a very sheepy yarn. Instead, I was drawn to the iconic artworks around Reykjavik, the capital, and the bright cheerful colors.
The yarn for this month's patterns is Plucky Knitter's Primo Fingering, a delicious merino-cashmere-nylon blend with a tight twist, dyed a beautiful shade of blue by Sarah Dimond in Michigan. In keeping with the theme, the colorway name is Vintage Icebox which is perfect.

The first design is named Sólfar after the iconic sculpture on Reykjavik's waterfront designed by Jón Gunnar Árnason. Sólfar translates to "sun voyager" and is a modern sculpture of a "dreamboat", and ode to Iceland's rich history with the sea. The curves and symmetry of the sculpture translated well into the stitches of a sock, taking on an almost floral appearance.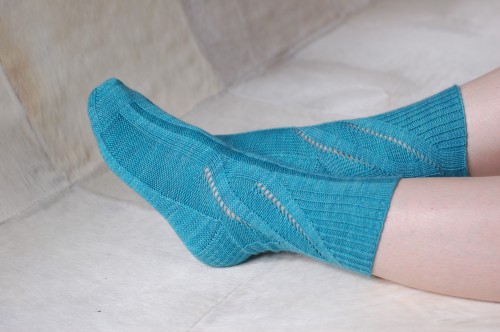 The second design, Reykjavik, is modeled after another iconic Icelandic landmark, the Hallgrimskirkja cathedral, which is visible from all over Reykjavik and is quite an impressive sight with such elegant lines and simplicity. I designed the socks so that when looking down at your feet, you will catch a glimpse of Icelandic architecture down to your toes. The elegant lines and textures are translated into a twisted rib and wider angled lines.
These patterns are exclusive to the Cookie A Sock Club until June 15, 2013.