For the sock club, I like to feature colors, yarns, and patterns that are more "guy-friendly" in October. This month's yarn and pattern are rustic and homey, appropriate for the rugged man who loves flannel or for anyone who loves sitting by the fireplace sipping cocoa or mulled cider. Of course, now that an autumn chill is in the air and the holidays are fast approaching, many of us are also thinking about gift knitting.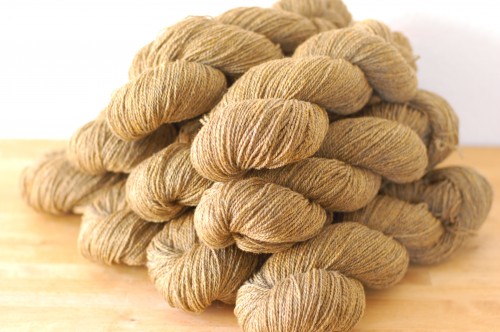 The yarn is a wool-tencel blend that was exclusively milled and dyed for the club by Green Mountain Spinnery. We tested the yarn to see how it held up, and it surprised me by holding up better than many superwash merino / nylon blends after repeated washings and even a dry cycle. In my book, that makes it a great candidate for gift socks that are likely to accidentally get put in the dryer.
The Sarsaparilla socks feature a chunky cable pattern that goes well with the rustic nature of the yarn.
The Hamantaschen socks feature triangular patterns that are tiled to look like diamonds.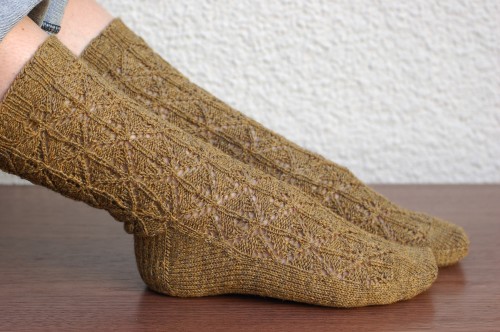 Club members have been keeping busy knitting up this month's socks, and for good reason: a finished pair of October socks is worth two entries into the Grand Prize drawing to win a membership to next year's sock club. If you're in the club and you haven't been posting photos of your finished projects in the appropriate Ravelry threads, now is the time. You have until December 15th to post photos!
Dorie from Washington knit up a pair of Sarsaparilla socks in Hazel Knits Artisan Sock in a gorgeous brown, perfect for fall.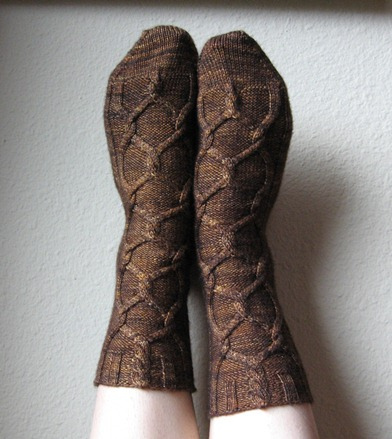 Mia from Germany also knit up a pair of Sarsaparillas in an intense shade of purple Wollmeise:
Josiane from Switzerland knit up her Hamantaschen socks in the club yarn:
And it looks like those sheepy sock blockers are popular! Ann from Boston is also showing off a pair of Hamantaschen socks  on them.
These patterns are exclusive to Cookie A Sock Club members until October 15, 2013. Want in on next year's club? Sign ups open next week on Monday, November 26th.